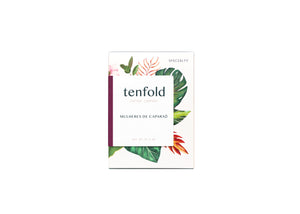 Mulheres de Caparaó - Brazil
Sale price Price $18.00 Regular price
Technical Details: 
Tasting Notes: Plum, Date, Smooth
Varietal(s): Red and Yellow Catuai
Process - Hand picked at peak maturation and slow dried as a Natural
Drying - On raised beds
Altitude – 1200 masl
Farmer(s) – Lala and Luana Sodre
Region - Caparaó
Backstory: 
Caparaó National Park sits on the border between the Brazilian states of Minas Gerais and Espírito Santo. The mountainous region with heights up to 2,800 masl, is full of dense forests and attracts many nature-loving tourists. In fact, the region was once considered part of the Zona da Mata region, which translated to "Forest Zone." While coffee has been grown here for some time, it is not your typical Brazilian region.
-
Foremost, it is quite misty or wet, which can cause numerous flowering and therefore harvesting periods. This can be a lot to manage and traditionally lends itself to low grade coffee. This is also an area of small producers. Many have only two to five hectares, which is extremely small for a country known for its enormous estates. However, these two non-typical Brazilian characteristics have actually directly led to the rise of this area's specialty coffee scene, which has become award-winning for its quality production.
-
Smaller farmers simply have less to manage and can therefore focus on cherry ripeness and specialty processing. Caparaó's wet weather, once its biggest weakness, is now thought of as its biggest advantage because it can pick from several harvests. Also, many producers have moved to drying on raised beds, which takes the coffee off the ground and allows air to circulate more cleanly and evenly.
-
In the case of this coffee's producer, Josimar, or Lala, as everyone calls her, wanted to make this move into specialty coffee. For years, she had had this thought but simply did not know how to start. So, with the support of her daughters, neighbors and FAF Coffees, our exporting partners, she was able to transition into specialty coffee and is immensely proud of what she does. She gets recognition for her work and has realized that specialty coffee unites people not only from Brazil but from all over the world.
-
Additionally, Lala and her daughter Luana have recognized that the majority of producers in her area are women. They connect regularly with those who are producing quality coffee or have an interest in making the switch to specialty trade coffee. Learning from each other is the hallmark of their coming together, and Lala and Luana are setting a clear standard for the women producers locally.
-
If you like a fruit-forward, balanced coffee with great depth, this is a must try.