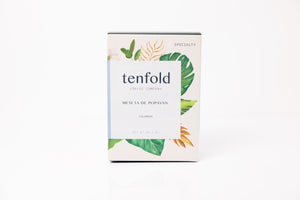 Meseta de Popayan - Colombia
Sale price Price $17.25 Regular price
Technical Notes 

Farm(ers):

 

65 small holders

 

Region:

 

Popayan, Colombia

 

Varietal(s):

 

Colombia, Catimor, Castillo, Caturra, Typica

 

Processing:

  Fully Washed

Altitude:

 

1500-2070 masl
Tasting Notes:

  Lime Zest, Pineapple, Syrupy
Why Do We Love This Coffee?
In collaboration with 65 farmer/partners around Popayan, Cofinet takes in harvested coffee cherries to oversee milling, quality control, and sorting the offerings to either be processed as usual, or to be decaffeinated.  
Like the decaf offering from Popayan, this coffee brings immense citrus character! Lime zest, Meyer lemon, and grapefruit commingle with pineapple, pink peppercorns, and rose aromatics, with a syrupy body that brings balance to the profile. It's an exciting cup to drink, and a highly approachable offering from our partners in Colombia.
Why Do We Work With This Producer?
Cofinet
Helmed by Carlos & Felipe Arcila, Cofinet is a leader in producing excellent coffee in Colombia. On their farm and in their processing center (La Pradera), Cofinet highlights exotic varieties and processing methods, pushing the boundaries of coffee quality in Colombia. They aim for sustainable, ethical, and long lasting relationships between coffee growers, roasters, and consumers.
They also partner with and support a large number of specialty coffee growers in Colombia. In addition to public coffee classes at La Pradera, Cofinet offers intensive internships, wherein producers are taught processing/fermentation methods, best growing practices, and given the opportunity to taste and evaluate their work. Cofinet hopes to assist farmers in producing outstanding coffees that will guarantee a high premium for their hard work.
Cofinet's commitment to Colombia through coffee production draws us to work with them, and support the positive impact they have on their community.
Roasting Notes 
Length of Roast - 10:41 

Drying Stage Percentage - 46.49% 4:58

Maillard Stage Percentage - 34.79% 3:43

Development Stage Percentage - 18.72% 2:00

Color Readings (Agtron Gourmet scale)

Exterior - 69

Interior - 80

Spread - 11